Project Summary | Research | Sitemap | Wireframe | Next Steps
Omega Fi
Omega Fi helps fraternities and sororities manage their finances and operations.
Website Branding
Omega Fi's concern was that their website does not make clear who they are and, by extension, what they do.
My Challenge
My challenge was to get to know the user's needs, sift through the content, design a new digital environment.
My Role: Content Audit | User Interviews | Persona | Sitemap | Wireframes
Project Summary
Most problems with the homepage revolved around a lack of clear branding. What does Omega Fi do?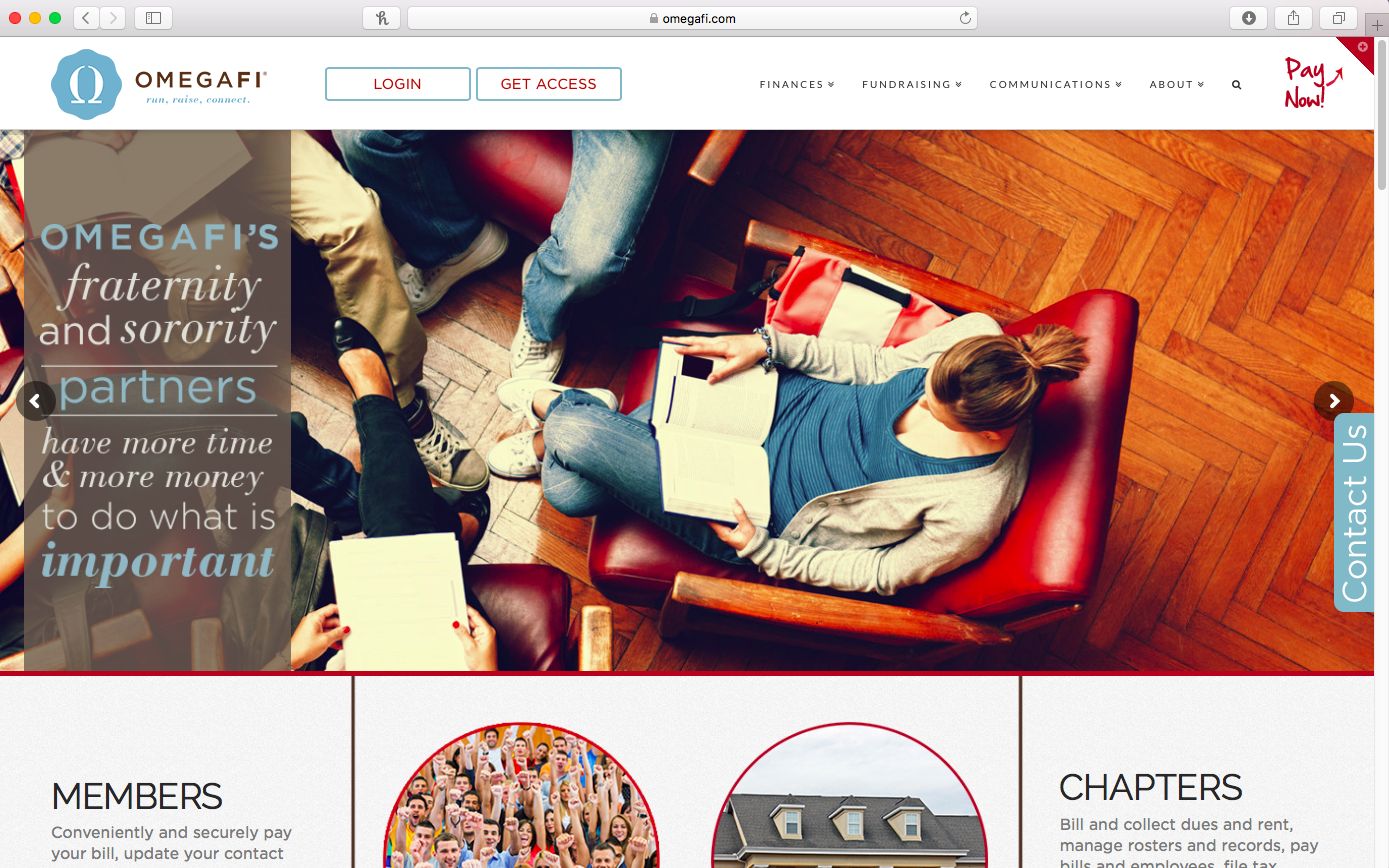 Header & Nav Sub-Menu Items
The main nav had sub categories that were not related to their main categories.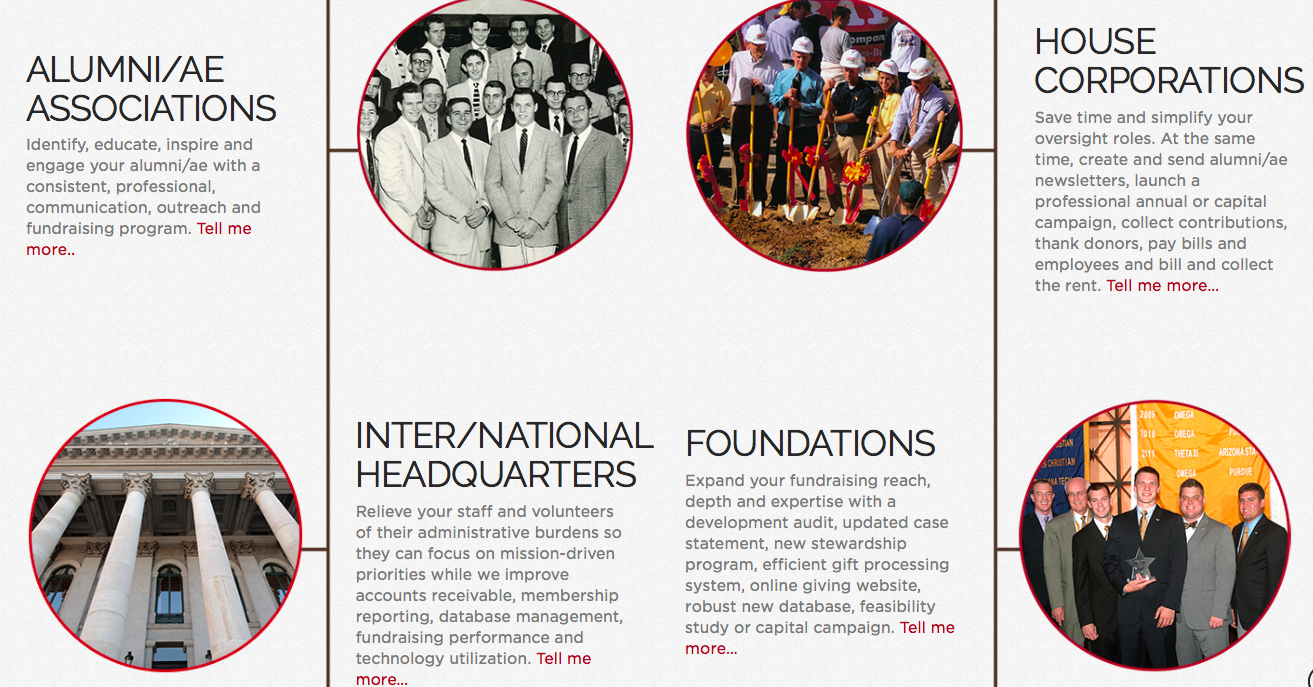 Omega Fi caters mostly to two user groups: Chapter Members and National Headquarter Staff. They didn't need to highlight the minor groups: Parents, Foundations, and Alumnae, House Corporations.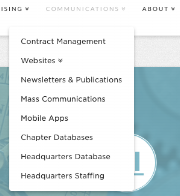 Some submenu categories were not relevant to the main nav they were under. For example, Contract Management, Databases, and Staffing shouldn't be under Communications.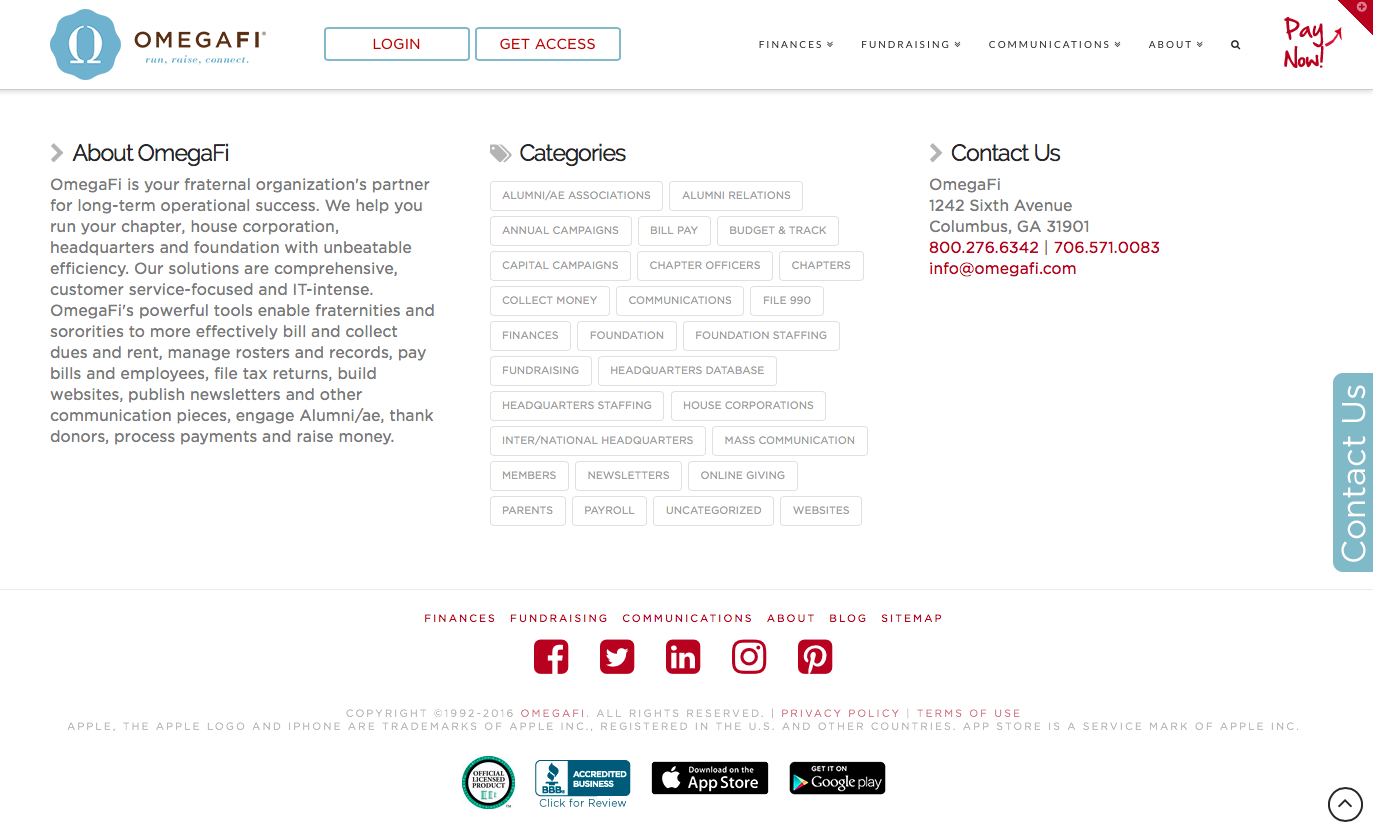 The footer needed to be minimized by taking out the tags and About blurb.
Research
User Interviews
In order to find out about the users, besides extensive descriptions provided by the client, I interviewed two users: a sorority treasurer and a fraternity treasurer. One used Omega Fi and the other used another service.
Interview Takeaways:
It needs to be more user friendly.

I need to do this anywhere anytime.

I need to be able to quickly find what I need.

I need to collect late dues without bothering people.
User Friendly: Payments online are hard for users who don't go on the site often, which is most of them.
Mobile: Users would like to be able to do this financial management on the go, but the app doesn't work. Instead, they log in through their browser on the phone.
Breakdown of charges: Users want to quickly see the complete breakdown of their balances, not just totals. They often have to hunt for the information or ask the treasurer.
Dues: Treasurers need to track who has not paid dues and communicate with them, preferably through a third party like Omega Fi.
Content Audit
I compiled a content audit.
Audit Takeaways:
PDFs could be edited down and made part of active pages.

Some pages were unnecessary and had content that could be absorbed or deleted.
Sitemap
In Axure, I created a sitemap for the new website based on the client's interests and user feedback. The new website halves the number of pages on the current website.
Expands the main navigation from four to five with two CTAs in the header- Request a Demo and Login.
Omega Fi was most concerned that people aren't sure what they do. The Solutions page links to the three areas of service: Financial Management, Data Management, Websites and Communication. These services are positioned centrally in the What We Do section on the home page with active icons and each service has it's own section underneath with description and image.
They also want their blog to be more active so Blog is now in the main nav.
A Testimonials page was added because Omega Fi wants to increase their video testimonials.
The About page now only links to a description of Omega Fi and it's history. Other company information is in the footer. This gets rid of extraneous pdf pages or puts them as links in the footer.
Next Steps
Due to time constraints, there was no user interview with the second group (a national headquarter staff person) and no usability testing.